Zest WEG helps power Kipushi's new dawn
Mining in the Democratic Republic of Congo (DRC) is seeing the rebirth of the historic Kipushi Zinc-Copper Mine in the Katanga province, and Zest WEG is providing key electrical and energy infrastructure. This includes a power plant, motor control centres, WEG medium voltage variable speed drives and WEG medium voltage motors, all due for delivery this year.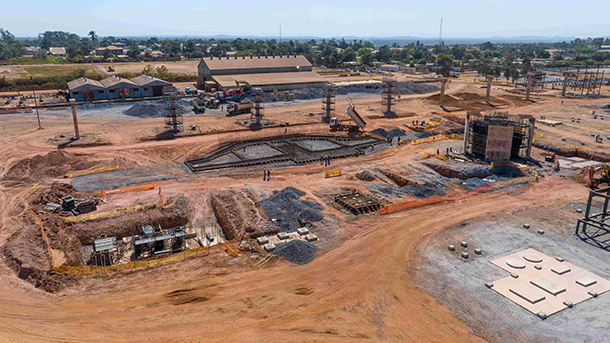 As part of Ivanhoe Mines' refurbishment of the historic Kipushi Zinc-Copper Mine in the Democratic Republic of Congo (DRC), Zest WEG will be supplying a range of electrical and energy solutions. Ivanhoe Mines acquired its 68% interest in the Kipushi Project in November 2011; the balance of 32% is held by the DRC's state-owned mining company, Gécamines.
According to Luveshen Naidoo, Business Development External Sales Engineer for Mining and Industrial at Zest WEG, this includes a 14 MW power plant, motor control centres (MCCs), WEG medium voltage (MV) variable speed drives (VSDs) and a WEG 1,200 kW MV motor for the mine's ball mill. The company is also the preferred supplier of low voltage (LV) motors, and will supply these to a range of mechanical Original Equipment Manufacturers (OEMs) servicing the mine. Delivery of the equipment is expected to begin in the third quarter of 2023.
"Our diesel powered plant, which will provide the mine with backup energy, has been designed to comprise 12 generator sets – each rated at 1,587 kVA and 400 V," says Naidoo. "Assembled at Zest WEG's specialised Cape Town facility, the plant includes MV switchgear, six 3150 kVA ONAN type 400V / 6.6 kV step-up transformers, a 40,000 litre fuel tank and an automated fuel system"
He highlights that splitting the plant design into smaller generating units ensured engines and alternators were readily available, securing a quicker delivery time. The configuration of the plant in this way also gives the mine greater energy security in the case of maintenance or breakdown. The gensets can also be transported to site using conventional trucking, without the need for abnormal load vehicles.
The MCCs are being supplied for use in an established substation on the Kipushi Zinc-Copper mine, as well as for a containerised substation elsewhere on the site. To accommodate space constraints, the MCCs are designed for a back-to-back configuration with a compact bucket size, he explains.
"This ensures that the equipment will fit in the available space while still meeting the client's specification and stringent IEC standards," he says.
For the mine's SAG mill, Zest WEG is providing the WEG W60 MV motor rated at 1,200kW – a robust unit for the demanding applications and aggressive environments found in the mining sector, says Naidoo. The reduced motor weight holds distinct benefits, he notes, including a compact base plate or plinth onto which it is mounted – and lower installation costs. The motor's IP55 rating ensures the motor is well protected from dust or water ingress.
To meet the client's needs for the MV VSD to drive the ball mill motor, WEG's MVW3000 unit is being supplied – a compact design with an integral dry-type transformer. To facilitate the dissipation of heat, Zest WEG designed a ducting system for this 1,200 kW VSD which will reduce the need for cooling of the substation.
As the client's preferred brand of LV motors, the WEG W22 motor is being made available to Kipushi's mechanical supply OEMs. Among the key benefits of this WEG IE3 motor is its energy efficiency, he says. This preferred brand strategy makes it more cost effective for the mine to keep the necessary consignments of spares for maintenance and servicing.
In putting together its proposals for the client, Zest WEG worked closely with the engineering consultant METC Engineering in the detailed design stage.
First-line support for Zest WEG's equipment will come from Panaco, the company's Value Added Reseller (VAR) in the DRC. The Panaco team can conduct site visits and technical investigations, and has a substantial in-country stockholding to ensure rapid availability of key equipment.
"Our partners at Panaco can generate technical reports to share with Zest WEG to ensure we can provide accurate and necessary specialist support," he says. "We have an aftersales team who can deliver support and solutions remotely or by travelling to site."
He concludes that Zest WEG's ISO9001 quality management systems underpin the high quality standards in all its products, and the company is audited annually to maintain this compliance.
"We also constantly work at reducing the environmental impact of our production processes, with regard to our usage of natural resources and the generation of waste and emissions," he says.